The city, founded in 315 BC a critical phase in the history of the Macedonian Kingdom, starting from the early death of Alexander the Great and was one of the earliest centers of Christianity spread. Thessaloniki enumerates monuments from the whole range of historical time, with multitude of Roman, early Christian and Byzantine monuments.
Among the important monuments include pre-Christian temples and three-aisled basilicas built from the 4th to the 15th century. A well-known monument and symbol of Thessaloniki is the White Tower. Other important monuments are the church of Ag. Dimitrios, the walls, the Roman Forum, the Arch of Galerius (Kamara), the Rotunda (St. George) etc.
Thessaloniki is a beautiful city with great history which spans the centuries. There are many places that will engage your interest as well as many museums. A walk in Thessaloniki will amaze you and you have the opportunity to discover hidden aspects of the city. In Thessaloniki will find one of the most important 'reports' ancient, Roman, Byzantine, post-Byzantine and modern monuments.

THESSALONIKI - Indicative city tour
Aristotle Square
White Tower
Archaeological Museum of Thessaloniki
Museum of Byzantine Culture
Arch of Galerius (Kamara)
Rotunda
Church of Saint Sophia
Agios Dimitrios
Castles (Eptapyrgio)

We can also organize your visit to the following sights as in many others not mentioned.

MUSEUMS OF THESSALONIKI


Archaeological Museum of Thessaloniki
Museum of Byzantine Culture
State Museum of Contemporary Art
Macedonian Museum of Contemporary Art
Folklore and Ethnological Museum
Museum of the Macedonian Struggle
Municipal Gallery of Thessaloniki
Cinema Museum
Museum Atatürk
Jewish Museum of Thessaloniki
Thessaloniki Science Center and Technology Museum (noesis)
Railway Museum
War Museum
Teloglion Foundation
Ecclesiastical Museum Metropolis Thessaloniki
Museum of Photography
Thessaloniki Olympic Museum
Children's Museum of Thessaloniki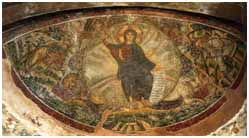 PALAIOCHRISTIAN & BYZANTINE MONUMENTS OF THESSALONIKI
Acheiropoiitos
Aghios Dimitrios
Monastery Latomou (Saint David)
Church of Saint Sophia
Church of Panagia Chalkeon, Thessaloniki
Church of the Holy Apostles, Thessaloniki
Aghios Nikolaos Orfanos
Church of St. Panteleimon, Thessaloniki
Vlatadon Monastery
OTHER ATTRACTIONS OF THESSALONIKI
Thessaloniki Beach - Statue M. Alexander
Roman Agora
Aristotle Square
Covered Market ("Bezestini")
Navarino square
Church of St. Gregory Palamas (Metropolis of Thessaloniki)
Dam Thermi